Members' Newsletter, 29 June 2021
CSANZ NZ ASM 16-18 June in Rotorua
New Zealand Chair Professor Michael Williams welcomed a strong delegation of over 400 members and guests to the ASM on a sunny mid-winter Rotorua morning: "It's wonderful for us to all be together at this meeting of the Cardiac Society."
"Over the last year and a half we've all learnt about the value of Community and how working as a team we can overcome adversity. The team gathered here today as the Cardiac Society aims to foster equity, diversity and inclusiveness with mutual respect and to address health disparities. During this meeting we will be engaged in activities seeking to improve cardiovascular practice and to promote the prevention and control of cardiovascular disease."
The Chair thanked Paul Bridgman for his outstanding work in convening the meeting in the shifting sands of the Covid-19 era.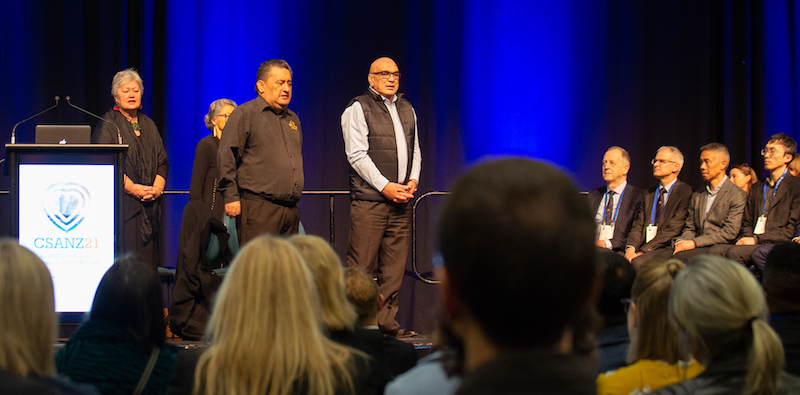 A big thanks to Wellington based cardiologist Alexander Sasse for his photography during the ASM.
New Zealand Cardiac Medal Awarded
Those gathered at the Annual Scientific Meeting in June were delighted to see Andrew Kerr awarded the New Zealand Cardiac Medal. The medal is awarded to a member of the Cardiac Society who has made an outstanding contribution in New Zealand by making heart care better for New Zealanders. Andrew's contribution to the practice of cardiology in New Zealand has been exceptional and epitomises the ideals signified by the medal. Find out more here.
Life Membership
Congratulations to Mark Webster who received his Life Membership during the opening session. Find out more here.
2021 Investigator Award Winners
At the annual scientific meeting, three investigator prizes were awarded. Congratulations to the winners! Find out more here.
Welcome to New Members
CSANZ NZ Region warmly welcomes the many new financial members who joined recently: Sarah Leech, Rebekah Finnigan, Khashayar Ghafouri, Emily Gray, Ammar Alsamarrai, Becky Yi-Wen Liao, Jeica Espanol, Jennifer Donald, Jo-Anne Kovacs, Catherine Hulbert, Danielle Gelbart, Aimee Croad, Belle Kreling, Gemma Prescott-Whitaker, Toan Pham, Evelyn Templeton, Amelia Power, Hassan Fahmi, Morisha Ali, Cassandra Li, Harping Bowker, Moses Ezeakile, Arun George, Lani Ioelu, Cecille Inocentes, and Gisela Kristono.
Finally, the New Zealand Committee welcomes input from members. At the AGM this June, Dr Peter Barr was elected as Northern Representative on the committee, Dr Paul Bridgman retired as Treasurer and Dr Mayanna Lund was appointed to take over as Treasurer. Dr Selwyn Wong was confirmed as Chair-elect, and Stacey Neilson (based at Lakes DHB) was confirmed as the Allied Health Representative on the committee.