New Zealand Cardiac Medal awarded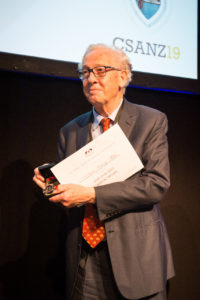 A new peak award to honour a member of the New Zealand cardiac community was given to Professor Harvey White at this year's Annual Scientific Meeting in Wellington.
Dr Mayanna Lund, Chair of the New Zealand Region of the Society, said "The New Zealand Cardiac Medal was established to recognise significant contributions to cardiac care nationally and internationally by a New Zealand CSANZ member. It was a pleasure to present the inaugural medal to Harvey White. In addition to his exceptional research career, Prof White has been a long standing stalwart  of the Society, including serving a term as President. While his work in the field of myocardial infarction is well known, Prof White has also made significant contributions to equity research, and has been a strong supporter of all cardiac health professionals within CSANZ. I would like to offer Prof White my warmest congratulations on being the 2019 medal recipient."
Professor White is Director of Coronary Care and Cardiovascular Research at the Green Lane Cardiovascular Service, Auckland City Hospital, and the John Neutze Scholar.
He is an Honorary Clinical Professor, University of Auckland, and Chairman of the Specialist Council of the New Zealand Medical Association. He trained at Green Lane Hospital, Harvard Medical School and Brigham and Women's Hospital, Boston.
Professor White was President of the Cardiac Society of Australia and New Zealand from 2002-2004. He is a Matai in Samoa.