Life Membership Awarded to Mark Webster
The Cardiac Society recognises Mark Webster's contributions over many years with Life Membership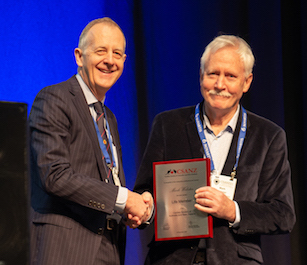 All present at the award ceremony at the 2021 NZ ASM in Rotorua warmly congratulated Mark on his achievements.
NZ Chair Michael Williams said "Mark has made an outstanding contribution to the Cardiac Society over four decades." Upon his return to Green Lane Hospital from the Mayo Clinic, Mark served on multiple CSANZ Council Committees including The Professional and Ethical Standards Committee for 16 years, the Continuing Education and Recertification Committee for 10 years and the Finance Committee from 2015. He was the Chair of the Combined CSANZ ASM in 2001.
Mark's wisdom and leadership are valued by the cardiology community and Society alike. This was reflected in his selection by a predominantly Australian Board to be President-elect of the combined Australian and New Zealand Society in 2015. Mark served as the Society's fifth New Zealand president in 2016-18 and in doing so joined the esteemed company of other New Zealand presidents: Edward Roche 1959, John Hunter 1977, Sir Brian Barratt-Boyes 1987 and Harvey White 2003.