Cardiovascular Nurses
About
Jo Wickham represents nurse members on the New Zealand Committee.
Jo will partner with cardiovascular nurses in centers around the country to deliver training days. Cardiac Nursing Education (CNE) days aim to update and up-skill nurses working in primary or secondary cardiovascular care settings. Check out the feedback here from a recent CNE day in Christchurch. It was very well received!
During the year, national representatives and local nurses work with the Annual Scientific Meeting organising committee to prepare for symposiums and business meetings at the ASM.
To find out more or to get involved, contact Jo through the NZ office.
Recently some educational videos for nurses were made available through the Members' Education site managed by the Australian office and the CSANZ Education Committee.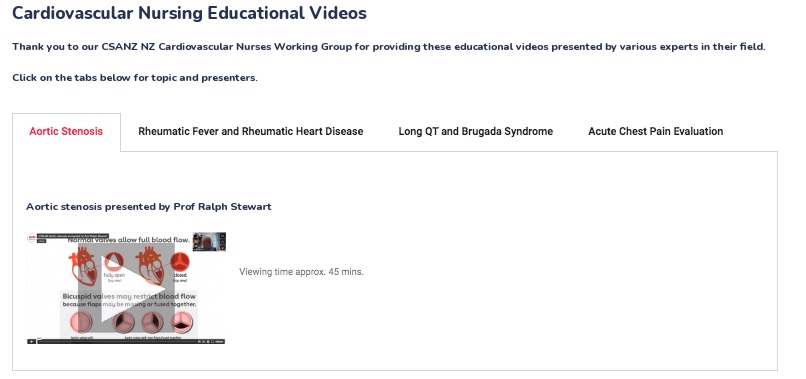 Alternatively, please access them on Vimeo here:
CVN-NZ Aortic stenosis presented by Prof Ralph Stewart – https://vimeo.com/768413726/9c2ec23f19
Rheumatic Fever & Rheumatic Heart Disease presented by Mary-Anne Ross – https://vimeo.com/768800627/bc858f6d7b
Long QT and Brugada Syndrome presented by Jenna Keepa – https://vimeo.com/768807295/5c1537d307
Acute Chest Pain Evaluation presented by Dr Niels van Pelt – https://vimeo.com/764005206/de66cbcb52
Nurse Practitioners
Meet our members who are cardiovascular Nurse Practitioners.
Jo Wickham
I have been working in Cardiology since 1995, first in CCU and cardiology procedures at North Shore Hospital and then as a Cardiology Nurse Specialist doing clinics at North Shore and Waitakere hospitals from 2000. I studied on and off, around work and family, to complete my post grad cert and diploma via Auckland University. After becoming a CNS and 17 years of hard work and study I gained my Master's degree in 2016 and Nurse Practitioner certification in April 2017. I was extremely fortunate to be accepted into the NP pilot programme at Massey University. I have dabbled in doing some work for Auckland University in assisting with the pharmacology nursing paper and doing marking. I currently work for Waitemata DHB over both the North Shore and Waitakere sites doing General Cardiology Clinics which is fantastic as I see patients with all cardiac conditions. I have also been and am currently mentoring CNS's for their Master's projects and RN prescribing practicums. I am currently the NZ CSANZ nursing rep.
Andy McLachlan
Andy is the team leader of the cardiac nursing team at Middlemore Hospital. He runs clinics seeing patients with a wide range of cardiac issues including heart failure.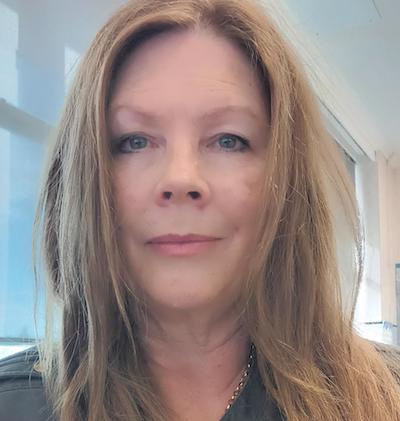 Julie Chirnside
I have been a cardiology nurse since 1995 with 15 years in Christchurch Hospital's Coronary Care Unit as a staff nurse then charge nurse manager. I have always had a strong interest in heart failure, stemming from my encounters with patients in the Coronary Care Unit who were acutely unwell, and what the long-term consequences would be for those patients and their families. I obtained a Clinical Master of Health Science in 2013 through the University of Otago, and qualified as a Nurse Practitioner in 2018. For the last 12 years I have worked in the heart failure nursing team at Cardio-respiratory Integrated Specialist Services (CRISS), which is aligned to the Cardiology department at the Canterbury District Health Board. Most of our work is Nurse-led outpatient clinics with telephone support for people with new or existing heart failure requiring education and heart failure medication optimisation; post-heart transplant patients; those with advanced heart failure requiring a palliative approach, and collaboration with Respiratory physicians for Pulmonary Arterial Hypertension patients. I also collaborate with and advise Clinical Nurse Specialists in Ashburton and Buller regarding clinical questions they have with their patients.
For four years I was co-chair of the Heart Failure Working Group, NZ branch of CSANZ. I teach on the University of Otago post-graduate and Masters nursing papers for health assessment and pharmacology. These days my interest is in improving palliative care for those with advanced heart failure in Canterbury.
Jane Hannah
I am a Nurse Practitioner working in the Adult Congenital Heart Disease service in Auckland. I started my cardiac career at Green Lane Hospital working across Cardiology and Cardiothoracic. I particularly enjoyed Intensive Care specialising in babies and young children post cardiac surgery. I then moved to Mercy Ascot Hospital for ten years running their ICU and Cardiac ward. In 2007 I came back to Auckland City Hospital to work with the Heart Failure service as a Nurse Specialist. Whilst there I completed my Masters and was supported by the team to become a Nurse Practitioner. In 2017, I joined the ACHD team. We are a National service and liaise with other Cardiac teams throughout NZ.
Adult Congenital Heart Disease is a growing service with around 90% of babies born with CHD now reaching adulthood. I am now seeing some of the babies I looked after at Green Lane come back as adults!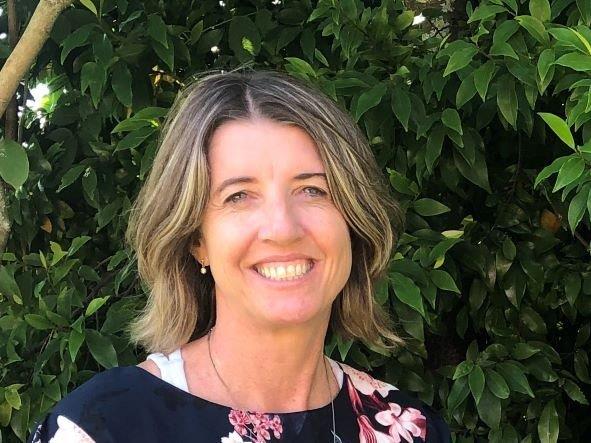 Tracy Low
I qualified as a Nurse Practitioner in June 2020 and commenced a new role as one of the first Cardiology Nurse Practitioners for Hauora Tairāwhiti, October 2020, which encompasses long term health management. Scope for this role includes first specialist and follow-up appointments within the cardiology specialty. My mentors are Associate Professor Dr G Devlin and Dr T Roberts, both Consultant Cardiologists. Current membership includes: NP representative Midland Cardiac clinical network steering group, NPNZ and CSANZ.
Previous role titles include Team Leader of cardiology outpatient /Cardiology clinical Nurse Specialist since 2010. I have held project lead positions, and management roles alongside my cardiology nursing career. Background clinical experiences to shape my career in cardiology comprised coronary, intensive care and emergency nursing, including working for the NHS, 1993-1994.
Qualifications include: RN comp Diploma 1992, Post grad Diploma in HSc 2010, Designated RN prescriber 2017, Masters of Nursing 2019, Certificate in Good Clinical Practice 2019, Advanced Practicum 2019, and Nurse Practitioner 2020. Research interests include clinical trials, acute coronary syndrome, low risk chest pain presentation, health literacy and systems of care. Recently published: Nursing Praxis in Aotearoa New Zealand. Low, T., Scott-Chapman, S., & Forrest, R (2020). Patient experiences of pictogram use during nurse-led rapid access chest pain clinic consultations in regional Aotearoa New Zealand. Nursing in Aotearoa New Zealand, 36(2), 31-40. https://doi.org/10.36951/27034542.2020.009
Jo Downie
I have been working as a Nurse Practitioner in Cardiology for 8 years, after completing my Masters in 2011, and doing a two year internship before becoming an NP. Prior to this I nursed for many years within Cardiothoracic Intensive Care and Coronary care units, and managed the Cardiac Catheter Lab at Taranaki District Health Board (TDHB) for 10 years.
I currently work in TDHB Cardiology Suite seeing a range of patients with cardiac conditions except heart failure, these include chest pain, atrial fibrillation/flutter/SVT, f/u diagnostic angiogram patients discussing results from this, and most of the patients who go to Waikato Hospital (Tertiary provider) following ACS, post op (CABG/valve replacement/TAVI), conduct and report exercise tolerance tests, chemical and stress myocardial perfusion scans and refer as indicated.
I run a nurse led elective cardioversion service which includes seeing patients pre and post DCCV and performing the DCCV with an anaesthetist.
I was the CSANZ Affiliate Nurse Rep from 2012-2019.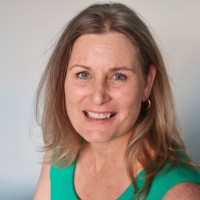 Brigitte Lindsay
RN training UK Reading. Qualified 1988. Masters Nursing 1st class honours 2005 Massey University. NP since 2007. Now I run the Heart failure service across Taranaki 0.6 FTE , work for South Taranaki Rural GP practice providing general primary care across the lifespan 0.3FTE and and have my own private General Cardiology practice.
Renee McEwing
Renee McEwing is a Nurse Practitioner in Cardiology at Counties Manukau Health and runs a range of outpatient clinics for a variety of cardiac conditions. She completed her Masters in 2016 and her NP intern year in 2022. Other aspects of her role include Cardiac Rehabilitation education in the inpatient and community settings, leading supported exercise clinics and programmes with allied health colleagues. Her background is in Coronary Care Nursing where she worked at ADHB for 6 years prior to her current role. She is the current co-deputy chair of the Cardiac Rehabilitation and Prevention group for CSANZ and has particular passion for health literacy, creating partnerships with patients and their whanau and breaking down barriers to accessing cardiac care close to home.