NZ Cardiac Medal awarded to Fiona Riddell
The NZ Cardiac Medal was awarded to Fiona Riddell at the Annual Scientific Meeting in Auckland in 2023
Fiona began Cardiac Physiology training in 1978 at Green Lane Hospital where the field of pacemakers grabbed her attention from a very early stage. Those were the days of oscilloscope measurement of pacemaker data and no programmability. She was the Charge Cardiac Physiologist at GL Cardiology from 1986, stepping down after 35 years in 2022 to take a Clinical Leader role.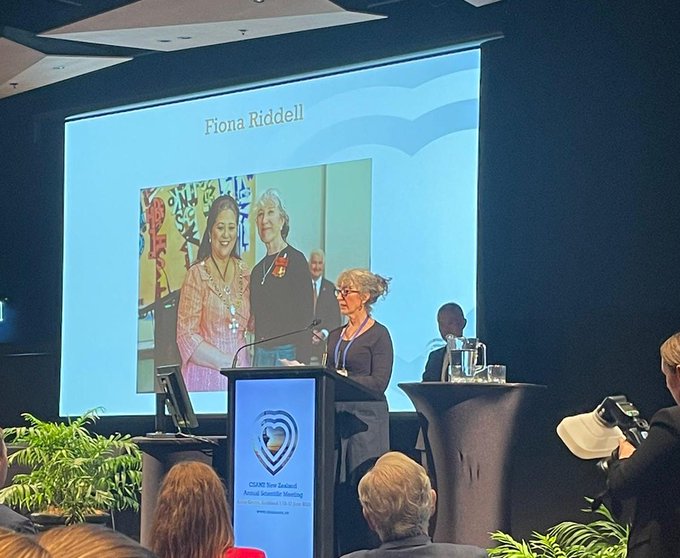 Fiona joined CSANZ in 1988. She was on the Executive of the Allied Health, Science and Technology Council from 2014-2018 and she represented Allied Health on the NZ Committee from 2012-2014.
Fiona has been very active in the Society of Cardiopulmonary Technology (SCT) the professional society. Professional standards and workforce issues constantly and continually a core focus of her career. Achievements have been establishing the SCT Registration Board in 1996 to set minimum national standards and qualifications for both technicians and physiologists. She was Chair of this Board from 1996 to 2004. This transitioned into the Clinical Physiologists Registration Board (CPRB) in 2005 and she was Chair from 2005-2013. This is a self-regulating Registration Board that has aligned other Clinical Physiology professions and, as part of this, a national training framework was established. At the time of writing, Fiona is the current Chair and Secretary of SCT.
Fiona has made a major contribution to pacemaker and implantable defibrillator research at Greenlane and Auckland hospitals and was a member of the international team developing the subcutaneous defibrillator. Her efforts in fostering the nascent service have allowed comparable services to be established at North Shore and Northland hospitals. Fiona has been described as the mother of cardiac physiology in NZ. The department that she has led has been responsible for training the majority of cardiac physiologists currently practicing in NZ. Fiona's knowledge and expertise in the field of cardiac devices is second to none.
Furthermore, Fiona has established pacemaker services in the Pacific Islands, making 20 trips on a voluntary basis since 2001 to Fiji and ten trips in a specialist capacity since 2015 to Samoa, Tonga and Vanuatu. She has given up an enormous amount of her own time in organising, planning and participating in the outreach programme. She is of course, Chair of The Pacific Islands Pacemaker Services established in 2016.
In 2021 Fiona was awarded an Officer of the New Zealand Order of Merit for services to cardiac physiology.
Finally, Fiona is an outstanding human being who has enormous empathy, compassion and an exceptional work ethic. Colleagues say that it is a pleasure and privilege to have worked with her.